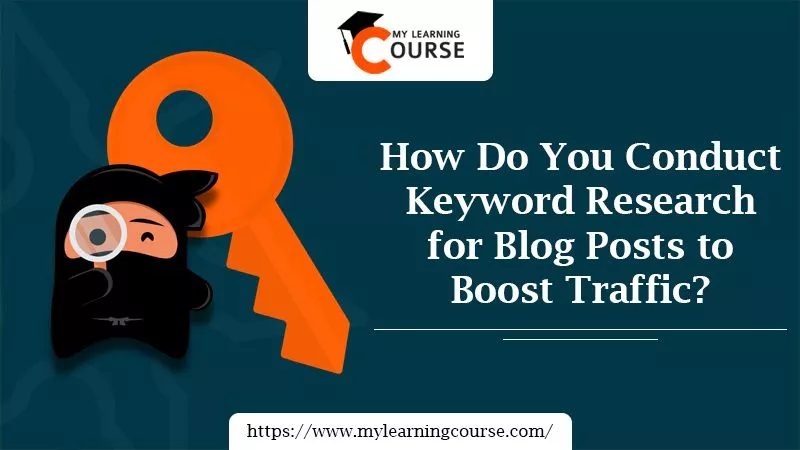 People frequently inquire about how they can conduct keyword research for a new blog post. Finding the right keywords for your blog post can help you think about some better content ideas that will help you increase traffic and create highly engaging content that your readers will enjoy. How do you correctly optimize your website for link building and target phrases? If you don't know what keywords to target, then how will you know what content to create for your audience?
Any digital marketing effort should start with keyword research. The goal of keyword research is to figure out what the target audience is searching for and then how you can rank for those terms. In this post, you'll learn what keyword research is, why it's important, how to do it for your SEO strategy, and how you can choose the best keywords for your blog posts.
What is keyword research, and why is it so essential?
Keyword research is the act of locating and evaluating search phrases that people enter in search engines intending to find relevant information. It can reveal target inquiries, their popularity, ranking challenges, and other details. Keyword research may be able to tell you a lot about what your target audience is searching for on Google. The information you acquire from these real-world search terms can help you improve your content strategy, as well as your entire marketing approach. You can participate in a digital marketing course to gain professional knowledge about using keywords to bring traffic to your blog posts.
Keywords are used to find solutions when conducting online research. If your material can get in front of our audience as they conduct searches successfully, you stand to get more traffic. As a result, you should focus your efforts on these kinds of questions. Conducting keyword research has several benefits, the most popular of which are:
Increased Traffic
The higher you rank in search engine results for terms that best match the material you provide, the more visitors you'll get.
Insight into Marketing Trends
Effective keyword research may give you insight into the current trends in the market and help you focus your content on phrases that your target audience is looking at any moment.
Acquiring Customers
You can meet a need and establish a call to action that will guide them through the buyer journey from awareness to purchase if you provide material that other industry professionals are seeking.
Read Also: A Step-by-Step Guide to Becoming a Google Ads Specialist
What Is the Process of Keyword Research?
Well-executed keyword research achieves several objectives. It makes it easier for the proper individuals to find you and helps your blogs and pages rank higher in search engines. If you execute it correctly, you won't need to spend money on pay-per-click ads. On the other side, poorly chosen keywords will bury your website. Worse, if they don't match the customer's intent, they can hurt your ranking. Another factor contributing to the difficulties of obtaining organic traffic from blog posts is competition.
Credibility is a significant barrier for blog articles. Search engines try out to rank the most dependable and full resource for a given keyword term. Basic keyword research can take a few hours, but you should keep track of keyword trends and generate fresh lists as your business needs evolve. The following are some basic steps in the keyword research process.
Step 1: Brainstorming
Your team should explore which keywords and phrases are most relevant to your audience at this stage of your customer journey before beginning external research. Avoid industry jargon and instead, use language that your target audience would understand.
Step 2: Choose a keyword research tool 
There are a variety of free and paid SEO keyword tools available. Look for a powerful keyword tool to get the greatest keyword research findings. Search engine optimization tools will provide you with specific search volumes, competitive URL analysis, and attribution data.
Step 3: Make a keyword list
Begin by making a keyword list that includes broad terms, subjects, and your brand name. Following that, you may wish to create supplementary lists dedicated to a single product or service line, as well as a specific stage in your marketing journey.
Step 4: Create a baseline 
The next step in the keyword research procedure is to create a baseline for it. You must save your lists and keep track of your rankings so you can also track your progress afterward.
Step 5: Set objectives
Finally, you must set a goal for the keyword research you are conducting at the time. Set the objectives for the keywords you want to rank for in your blog posts.
Also Read: How Does the Film Industry Use Digital Marketing to Promote Their Films?
What are the most important features of keyword research?
Keyword research exposes what topics people are interested in and assumes you use the right SEO tool. It tells what topics people are interested in at the given moment. Topics are the operative term here; by analyzing keywords that receive a significant amount of monthly searches, you may select and classify your content into topics on which you want to develop content. You can thereafter determine which keywords to search for and target depending on these themes.
After you've completed all of the preceding steps, you may start working on your keyword approach, but that doesn't imply that your work is done. A good keyword strategy necessitates proper follow-up, which involves continual monitoring and tweaking. You need to create high-quality content around your targeted keywords for your blog posts or pages to rank well. With each posting, outperform your opponent. Provide greater value, a more comprehensive response, and make it easier to understand.
Authority
Sources that Google deems authoritative will be given more weight. That means you need to do everything you can to establish yourself as an authoritative source by adding useful, informative material to your site and promoting it to gain social signals and backlinks. You won't be able to compete if you aren't viewed as an authority in the field. Unless your content is extraordinary, you will have a hard time ranking.
Relevance
Relevance is a factor that Google considers when ranking content. The word "search intent" comes into play at this point. Your content will only rank for that term if it meets the particular needs of the searchers. Furthermore, your content must be the most up-to-date resource for the investigation. After all, if your content is more valuable than other information on the web, Google will give it a better ranking.
Volume
You could rank first for a keyword, but in case, no one searches for it, your site will receive no traffic.n It's similar to founding a company in a dead town. Monthly search volume is used to calculate volume, which is the number of times a keyword is searched each month among all audiences.
How do you perform keyword research to boost blog post traffic?
You can use blog postings to target hot, trending topics that aren't worth dedicating permanent site material too. You can grab search traffic while a keyword is trending and then archive the post once the trend has passed. Blog posts such as how-to articles are excellent evergreen content. A blog post not just ranks rapidly, but it also continues to rank well and attract traffic for months or years.  Many bloggers use Google's keyword tool, but it doesn't show all of the phrases that people search for, and it doesn't show terms with low search traffic.
Because you don't have to worry about how your blog posts fit into your site architecture, targeting keywords with them is much easier than targeting keywords with web pages. Furthermore, advertising is frequently more natural. You can register in an SEO course to learn more about keyword research and how you can improve the ranking of your blog content.  There are a few things to keep in mind when conducting keyword research.
Look for keyword options
Make your topic more specific
Analyze your position in your field
Check the intent of your search
Write your post and optimize it
Look for keyword options
You have to establish which is most likely to generate relevant traffic before you move to target something. Your keyword research strategy gets determined by the objectives of your blog post. You can use Google Suggest or Google Trends to identify keyword phrases if you're looking for a topic that's hot right now. Traditional keyword programs can be useful for bringing in new data so that you can research current events more quickly.
Make your topic more specific
You'll need to limit your topic to something that could certainly attract a large number of people. You may easily identify a form that is both relevant and specific if you utilize keyword grouping tools like WordStream for SEO. If not, utilize a keyword research tool and your judgment to come up with a good phrase.
Analyze your position in your field
If you're up against big brands, which already dominate the first page of Google for the majority of the terms you've identified, you will want to shift. Your focus is to find less competitive long-tail keywords. Look for your most wanted keywords on the search engine results page (SERP). You must go back and modify your list with long-tail keywords. If it is full of solid brand names that have greater influence and customer base than your company.
Check the intent of your search
A consumer is looking for something when they type a search query into Google. By typing your keyword phrase into a search engine, you may verify that you comprehend your clients' purpose. If you try to sell to a buyer who is looking for information, you may receive a click, but they will rapidly bounce, hurting your rating. If you deliver a product page to a shopper who is ready to buy, they will be delighted.
Write your post and optimize it
Remember to include your keyword in the page title. For search engines, it's an important indication. You will need some text on the website, even if you're making a video post. You have to use your keyword and the related variations of your term in the text. Also use the phrase in the meta description, file name, and alt text of your photographs, among other places. Use it in your video's title and description as well.
You May Read Also: How to Get SEO Backlinks? A Step-by-Step Guide
What are the most effective keyword research tools?
The process of improving your website begins with keyword research. Remember that choosing the right keywords is critical for a blog's success, but it's only one of many elements to consider; you can't ignore the others. There are hundreds of programs designed just for keyword research, and they range from beginner to advanced. They also range in value from completely useless to extremely valuable. It can help you find the right keywords to target and give you the data you need to rank for them. They can make your search more difficult and slow you down if done incorrectly.
It is impossible to overestimate the importance of keyword research in today's SEO. Good quality keywords are among the most efficient ways to generate consistently quality traffic to your site, whether you're relaunching an old blog or planning your content strategy for a new one. Below is a list of some of the top keyword research tools to aid you in conquering your content.
Google Keyword Planner
Google Keyword Planner is a simple keyword tool, with a limited set of features. It is one of the most accurate keyword data sources available, despite its lack of functionality. The data comes straight from Google, and the results are consistent with AdSense revenue. The Google Keyword Planner is a completely free service.
SEMrush
SEMrush SEMrush is the SEO equivalent of the Swiss Army Knife; it's more than just a keyword tool. Instead of producing a list of keywords, SEMrush suggests 5-10 very exact keywords that your competitors are currently using. SEMrush provides a seven-day free trial of its services. You must input credit card information to gain access to the trial version, but there are no costs if you cancel your subscription during the first seven days.
Majestic
Majestic is a one-stop-shop for monitoring the health of your website. It's a great tool for new blog posts and small businesses that may not have the funds to invest in complex SEO help. Sign up with Majestic and do three free searches to get a sense of the service. The keyword checker is available only in the PRO and API plans. You may get the SEO toolkit at $83 per month When you choose the annual billing option.
KWFinder
Mangools, a developer known for providing the greatest keyword research tools in several industries, launched KWFinder, a keyword research tool. You can start by reading their beginner's guide. The KWFinder tool makes it simple to locate keywords with minimal SEO difficulty, along with a slew of additional capabilities. Only a few free searches are permitted with this keyword tool. To save up to 40% on any of the three subscriptions, choose an annual plan.
Ahrefs
One of the best keyword research tools for content writers accessible today is Ahrefs. The software provides the customer with a comprehensive keyword report and unique click metrics based on clickstream data. Ahrefs offers four different pricing options. The pricing for freelancers, internet marketers, mid-sized enterprises, and larger corporations begins at only $82 per month if they want to choose a yearly payment plan.
GrowthBar
GrowthBar is an excellent tool for on-the-go marketers and bloggers who want to check ranking difficulty or keyword ideas alongside their search results. Content outline generation is a new feature that allows you to quickly create content outlines for your blog or website, complete with keywords, word counts, headers, images, and links, in just one click. GrowthBar provides a free 5-day trial after which you'll be paid according to the plan you select. You can search for an infinite number of keywords with the higher-tier plan.
Read More: Most Effective Digital Marketing Strategies For The Festive Seasons
Final Thoughts
When beginning a blog post, there are a lot of important factors to consider, and if you want to be successful online, you need to make sure you get them all right. Many novice bloggers overlook keyword research, and as a result, they struggle to attract readers to their sites. Keyword research is a critical part. Selecting the proper keywords is among the most important variables in increasing the traffic to your blog posts. The keywords you choose are an outgrowth of your organic traffic. It allows you to attract visitors who are interested in your blog's content.
You get used to going through this keyword research procedure once you get into a routine, and it doesn't take long. If you're interested in taking an online digital marketing course to improve your keyword research skills, you can contact us for more information. My Learning Course offers the greatest digital market.