Do you want to see your brand at the top of the search engine? Are you confused between SEO vs PPC which is the best for your business? In short, SEO and PPC advertising are both excellent approaches to nurturing leads. Many businesses use these two digital marketing tactics to boost their online visibility. Which digital marketing tactic would you choose if you could only invest in one? Pay-per-click advertising or search engine optimization?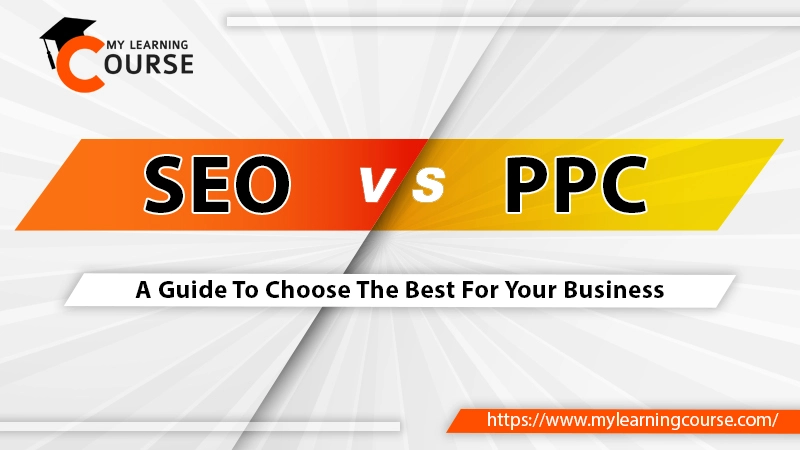 To know more details on SEO vs PPC you can join the Google Adwords course. You can also join a Search engine optimization course from one of the best institutes.
if you want to understand the clear difference between  SEO vs PPC.
What's the Difference Between SEO vs PPC?
We can say that SEO is the process of driving organic traffic to your website by optimizing web pages. Whereas, you have to pay for PPC advertising to show your page at the top and bottom of search engine results pages.
SEO or Organic traffic
SEO (search engine optimization) is the process of natural ranking in search engines. It's free, except for your time.
Paid traffic or PPC Advertising
Your website will appear at the top of the search results page, above organic results, as soon as your search ad goes live. It's nice and easy but it comes with a cost.
Know The Basics of SEO
Search engine optimization means content on your website. It uses to increase your visibility, credibility, and relevance. It includes on-page and off-page SEO. Basics of SEO you can join an online Search Engine Optimisation course from one of the best institutes.
On-page SEO includes things like H1 tags that include the term you want to rank for.
Teasing meta descriptions with the appropriate keyword in the beginning Alt text behind every picture that is detailed and contains your keyword.
Incorporation of your keyword naturally into your article.
H2, H3, and H4 titles that include your keyword.
Off-page optimization – off-page SEO – are methods used away from your website that will also improve the ranking, and include…
Backlinks are one of the most common processes used for off-page optimization. Search engines use it as proof of the quality of your website.   If you are looking for good backlinks then you have to ask from the high domain websites. For the identification of high domain websites, you can use those websites who are having GOV or.EDU in extensions.
Another common way is social media marketing, you can use this platform for sharing content. Also, use business directories to improve the authenticity and authority of your website. You can write articles, press releases and guest posts over various platforms and then you can believe your brand over there.
Know the Basics of PPC
PPC advertisements appear at the top and bottom of search engine results pages. You pay a charge each time someone clicks on your PPC ad. Your advertisements may be tailored to users' interests, geographical area, gender, age group, career, and so on. You'll be able to calculate ROI and see which advertisements are working and which require improvement.
If you want to know the basics of PPC then you can join Google Adwords Course from one of the best institutes.
Find The Pros and Cons of SEO Vs PPC?
SEO and PPC both are different, but at the same time, they both are beneficial. But if you want to choose one between SEO vs PPC then it is completely up to your business.  First of all, you have to consider all the possible pros and cons of SEO and PPC advertising both.
Pros and Cons of PPC Advertising:
Here is the list of common Pros and Cons of SEO, it will help you to understand the benefits and the drawbacks of SEO in your business.
Pros of SEO
1. Raise Brand Awareness
In the long term, by constantly producing high-quality content for your website, your SEO rankings should rise.
2. Establish Your Credibility
One of the major benefits of using SEO is credibility. If your organic search results are high then it will improve your ranking which develops trust. Most consumers trust websites that appear at the top of a SERP, so work hard to improve your SEO rankings.
3. SEO Is Cost-Effective
When compared to other digital marketing techniques, SEO is one of the most cost-effective ways to increase your online visibility. Most SEO services are not inexpensive, and it may take some time before you see results. SEO is far less expensive than outbound marketing tactics such as cold phoning and print advertisements.
Cons of SEO
1. Cut-throat Competition
Prepare to compete by developing stronger SEO tactics to rank higher than your competitors. You are not the only company owner who wants to improve your rating.
2. SEO Is Changes Rapidly
SEO changes rapidly so most of the time you need to hire a third party for managing your SEO. Because search engine algorithms improve over time, you must always be on the lookout for the most recent modifications and adjustments. You may accomplish this by contracting with an SEO agency.
3. SEO is Taking Process
SEO takes time and it is one of the most commonly known facts about SEO. For better SEO you have to be patient and update good content on your website. have to repeat this practise frequently to improve your ranking. As previously said, it may take some time before your SEO effort yields significant returns.
Pros and Cons of PPC Advertising:
If you want to decide between SEO vs PPC advertising, then you need to know the benefits and the drawbacks of both. Therefore, here is the list of Pros and Cons of PPC Advertising:
Pros of PPC Advertising:
1. Reach Your Target Audience
To reach your target demographic on Google Search, you may customize your PPC advertising strategy. You may target a certain set of people based on their demographics and interests.
2. PPC Is Measurable
Measure the effectiveness of your PPC campaign carefully. You can calculate how much your return on investment (ROI) has been as a result of your bought adverts.
3. Quickly Boost Sales
PPC advertising is a faster way to increase sales than SEO. To achieve the greatest results, combine your PPC advertising efforts with SEO services.
Cons of PPC
1. PPC Can Be Costly
The disadvantage of PPC advertising is that it may be expensive, particularly when compared to SEO. However, You might easily spend thousands of dollars without enhancing your ROI, so be cautious and keep track of your performance frequently.
2. Clicks Do Not Lead to Sales Itself
Yes, you can quickly attract traffic to your website, but it does not guarantee that your visitors will buy your stuff. You must persuade visitors that your items are worthwhile purchases. Create a user-friendly website and tailor your adverts to entice clients.
3. It Requires Skill
It might be difficult to set up a successful PPC advertising campaign. Most PPC advertising strategies are sophisticated, which is why you should consider hiring a Singapore digital marketing agency to assist you.
SEO vs PPC: Choose the Better one
If you are looking for the correct answer, which one is better SEO vs PPC Answer is – it depends. You cannot say that one is superior or the other is inferior. Both are respectable traffic sources. However, in other cases, one channel may make more sense than the other.  Therefore, here are a few scenarios that are going to help you to decide According to your business.
1. Doing Marketing for an innovative product
If you're launching a disruptive firm with an innovative product, chances are no one is seeking it. You'll need to target subjects that people are already looking for if you want to gain organic traffic. In this case, it may be preferable for you to use social media PPC to raise awareness for your product or service.
2. Looking for Kickstart
Are you planning a Kickstarter campaign or marketing a one-time event? SEO may not be the best technique. SEO will take some time. Your event might end before you even begin rating. In this instance, you may want to investigate PPC or other channels such as influencer marketing.
3. Looking for commercial content promotion.
How people do not want to connect with commercial material like landing page
To rank first in organic search, you might consider adopting tactics such as the Middleman Method. Here's an example of how it works:
If you need results soon, try PPC, which may send visitors directly to a landing page.
4. You're building a site intending to sell
If you're in the website flipping business, it might be better for you to focus on SEO. If you started ranking on the search engine for your desired keyboard then it is easy to manage as compared to PPC. With PPC, you have to constantly manage and refresh your campaigns so they don't break or go stale.
SEO vs PPC: A Statistical Comparison
However, the dispute has raged for years, there is a wealth of data available to compare various search channels. Let's have a look at some SEO versus PPC data below.
The organic listings on Google's first page have a CTR of 77.2 per cent.
Paid advertising has a CTR of 3.17 per cent across all industries.
Organic listings accounted for 64% of all clicks in the SERPs, according to Conductor. In comparison, the Conductor research discovered that sponsored advertisements accounted for only 6% of clicks. (The rest were non-clicks, or the searcher went on to a new term, etc.)
According to HubSpot, up to 80% of users disregard PPC advertising.
According to WordStream, the average CTR for PPC advertising across all industries is 3.17 per cent.
In comparison, Advanced Web Ranking discovered that in April 2019, the Google page one organic CTR for 2,547,868 keywords across 47,781 websites was 77.2 per cent. The organic CTR for mobile was 64.97 per cent.
According to 2018 research conducted by Jumpshot and Moz, organic desktop listings continue to generate 20X more hits than PPC advertisements, while organic mobile listings generate 10X more clicks than PPC ads.
Wrapping Up:
In this blog, we have discussed SEO vs PPC. I hope it helps you decide on the best one for your business. Which is the best option for your business completely depends on the type of your business. However, If you want to pursue your career as a digital marketer then you can join an online Google Adword course or Search Engine Optimization course.