Are you aware of the benefits of Facebook marketing in today's business world? For some years, Facebook has reigned supreme in the social media world. No one, whether a single user or a brand strategist is in doubt about it. Though Facebook began as a simple social media networking platform for people to interact with friends and family, it has evolved into much more. It was just a matter of time until it became a viable tool for advertising brands and businesses.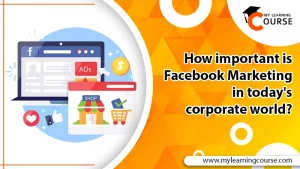 Businesses are actively pursuing clients on Facebook, to put it another way. Therefore it makes sense to establish a presence there. It may appear intimidating to newcomers, but don't be concerned. A Facebook marketing course might assist you in becoming a professional in the field.
What Is Facebook Marketing and Why Should You Use It?
Facebook marketing is the process of advertising and maintaining a brand's presence on Facebook. Both organic and paid or boosted posts are included in Facebook marketing. One can enroll in a Facebook social media marketing course offered by any reputable institute To become a master in the field. Have you ever questioned why you should use Facebook marketing to generate leads for your company?
Facebook has evolved into a platform for businesses to sell themselves by interacting with customers and promoting themselves. It's an excellent place to keep customers up to date, develop brand identification, and expand your reach. Continue reading to learn more about why Facebook is so important for your business.
How Can Facebook Marketing Help Your Business Grow?
Are you aware of all the ways Facebook can assist you in growing your business? Traditional marketing strategies can still be useful, but the next generation of consumers is increasingly using social media. Facebook is one of the most cost-effective ways to interact with clients, promote your services, and build your brand. Additionally, professional training on Facebook marketing for beginners can aid in gaining a better understanding of the subject. But first, take a look at how Facebook marketing services can help your business flourish.
Builds Brand Loyalty
Frequently updating your Facebook page can assist in customer engagement and brand loyalty. By interacting with customers on Facebook, your company may establish relationships, gain loyal customers, and, most importantly, attract new customers.
It helps you Stay Connected
If you are active on Facebook, customers will notice that you care about being relevant. Create visually appealing material that will pique your customers' interest. Fans will feel more connected to you if you include photos of your products, services, or place of business.
SEO Benefits from Social Media
People will almost always check to see whether your company has a Facebook profile while searching for you online. Search engines will rank your material higher in the search results if you have a consistent number of followers and likes.
Contests help to Increase Fan Engagement
A good deal, or even better, receiving something for nothing, appeals to everyone. It boosts visitors to your Facebook page when you post a contest. This traffic increases fan interaction and leads to more exposure for your company.
Identify your Ideal Clients
You can target the ideal audience you want to attract with Facebook Ads for your business. You can target people based on their age, location, gender, level of education, and more. It indicates that your advertisements are relevant to the people who will see them.
How to Create a Successful Facebook Marketing Strategy?
Facebook is the most widely used social networking site on the planet. It provides numerous options to connect with new audiences and improve your company's reach from a marketing standpoint. You'll need to understand Facebook marketing if you want your business to prosper on social media. Here you can learn more about how you can create a proper strategy on Facebook that will help your business thrive.
Determine your Goal
Setting goals is the first step. The strategies, posts, and ad styles you'll utilize to attain your aim are all predetermined by your goal. You can break down your goal into smaller, interim objectives.
Define who you want to Reach
Identifying who you want to reach is a top priority activity because it will influence the strategies, ad formats, and tone of voice you use. Collect and store all information about your target audience to make this procedure more efficient.
Format your Content and Publish it 
It is now time to think about a content strategy that will help you achieve your objectives. A content strategy comprises deciding on the formats of content you will produce. The consistency and regularity with which postings are published in the next factor to evaluate.
Use Facebook Ads to Promote your Content
Facebook is a fantastic medium for advertising as it allows businesses to reach a big audience. It offers several targeting options, and tools for effective outreach and is reasonably priced.
Utilize Facebook's Resources
Facebook comes with several beneficial tools that can help you earn more money in your business. If you go to the Ads Center settings and Analytics capabilities in-depth, you can get the most out of Facebook.
The Conclusion
Facebook marketing is a strong tool, whether you are a large corporation or a small local business. Customers are already searching on Facebook for businesses like yours. Only a well-planned Facebook marketing campaign will allow you to communicate with them. Businesses can market to this golden grail of users using Facebook Pages. A Facebook Page is comparable to a personal profile in that it is a public presence.
If you are developing a Page from scratch, try sharing it with people you linked to on Facebook. Additionally, if you are interested in taking part in the best Facebook marketing course, you can contact us. We provide the latest courses, available on the market to prepare people to be leaders in today's rapidly increasing sector.