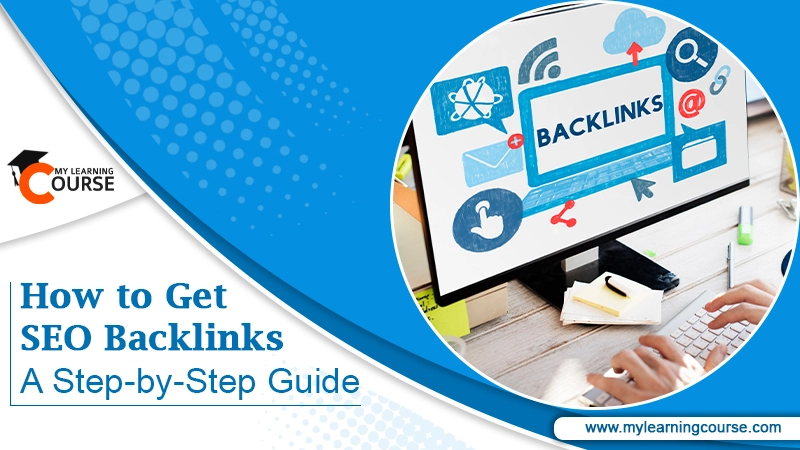 The term SEO backlinks are among the most commonly used in digital marketing. Do you know what they are, exactly, and why are they important? We frequently compare Google to something like a popularity contest, with thousands upon thousands of pages striving for the first place, impacted by thousands of factors. Backlinks are a vote of confidence from one website to another and a strong indicator of worth to Google amid the competition. SEO comes in an online digital marketing course, and you will learn about a variety of topics, including the creation and importance of backlinks.
SEO professionals have a horrible tendency of throwing around jargon without checking to see if their clients grasp what they are saying. This guide will teach all you need to know about SEO Backlinks, including what they are, how to get them, how important they are, and more.
What is a backlink in SEO?
SEO Backlinks are linked from other domains to pages on your site, establishing a relationship between your website and theirs. They are connections that unite the pages of one website to those of another. Such as, you have a backlink from someone who links to your website. If you link to another website, you have a backlink from you. Backlinks are regarded as votes for a given website by Google and many other major search engines. Pages with a large number of backlinks have higher organic search engine rankings.
One of the most popular these days is a search engine marketing course. Professional education in this domain will teach you about SEO and how to use backlinks to help with it.
What is the significance of backlinks in SEO?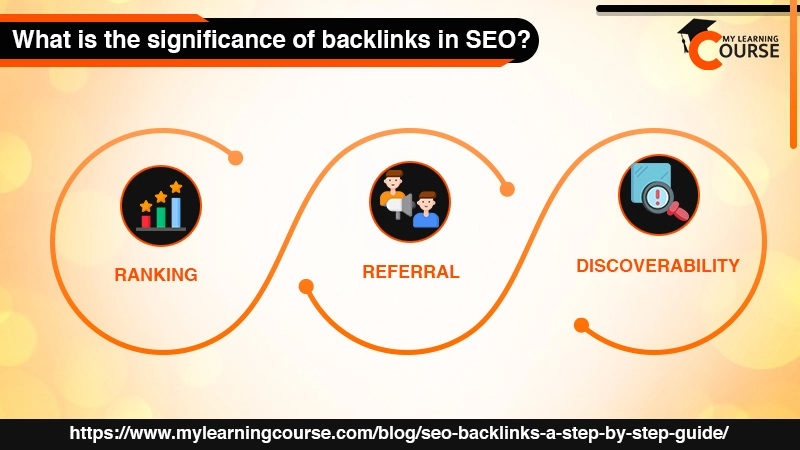 Many business owners who have a limited understanding of SEO understand the importance of link building to some extent. In a nutshell, backlinks to your website tell search engines that other people are taking interest in your material. Search engines may consider it necessary to contribute information to a webpage or website if several sites link to it, allowing them to browse the SERP. As a result, obtaining SEO backlinks can have a favorable impact on the site's ranking or exposure. 
Many websites connect back to your site send a favorable signal to search engines, indicating that your information is valuable and worthy of being linked. In exchange, the search engine will improve your website's search rankings and visibility. It demonstrates the importance of link building for your website. In the section below, we will look at the genuine value of backlinks in terms of SEO.
Ranking
Search engines like Google consider backlinks to be votes of confidence. In general, the more views your web pages receive, the better chance they have of ranking for relevant search results.
Referral
Backlinks direct the users to sites that offer more useful information to them. It is the reason that they are clickable. You obtain referral traffic when someone clicks on the link to your website.
Discoverability
Because search engines revisit popular pages more frequently than less popular pages, if you gain SEO backlinks from popular pages, they may discover your content sooner.
READ ALSO- What is Meme Marketing And How Does It Influence The Digital World?
What are the best ways to get SEO backlinks?
Do you want to know how to generate backlinks for SEO? It is always beneficial to obtain additional high-quality backlinks, which are those that come naturally as a result of your valuable content. You can also enroll in an online digital marketing course that will teach you about several topics, such as SEO, where you will learn more about backlinks and how to get them. So now you know what a backlink is and why it is significant in the context of SEO or search engine marketing. Now it is time to focus on how to get high-quality backlinks to your website. Here are a few strategies for obtaining SEO backlinks:
Guest Blogging
Guest blogging is a strategy in which you write a post for someone else's blog instead of your own. Finding sites for guest blogs is one of the most difficult aspects of guest blogging. You can boost your chances of acceptance by looking for sites that already accept guest posts. Keep in mind, though, that you can't just guest post anywhere and expect it to assist.
News Article
Journalists and authors are often looking for experts to cite in their articles. Some, but not all, SEO backlinks are included in their websites. Getting quotes in the media is a great way to get backlinks and build a reputation in your profession.
Rebuild Broken Link
Pages are constantly being updated, moved, and deleted. Links to a website or page that no longer exists or has been deleted are known as broken links.  Find relevant broken links on other websites, contact them and recommend that your working link be used instead.
Press Releases
If you are unfamiliar with press releases, they are simply advertising disguised as news stories that highlight exciting new advancements at your company. Although press releases are essentially corporate propaganda, they are widely distributed and include backlinks to your website.
Paid Links
Paid links are neither Google, Bing search advertisements, nor are they Facebook or LinkedIn social network ads.
These are the sites that charge a fee for a backlink to your website and may or may not reveal that the link is a paid advertisement.
Replicate Links
If you're unfamiliar with press releases, they're simply advertising disguised as news stories that highlight exciting new advancements at your company. Although press releases are essentially corporate propaganda, they are widely distributed and include backlinks to your website.
Social Media
Because social media platforms permit you to link to your website from your profile, there is some utility. However, Facebook, Twitter, and other social networking sites now identify links as "no follow" which means that they do not convey SEO value to the website linked.
Web Directories
Because Google understands that directories have no real-world value, it gives backlinks from them little weight. This rule, however, has one exception. You can get valuable backlinks by submitting your website to local, industry-specific, and niche directories.
READ ALSO- What is the best method to Learn Digital Marketing?
What constitutes a good SEO backlink profile?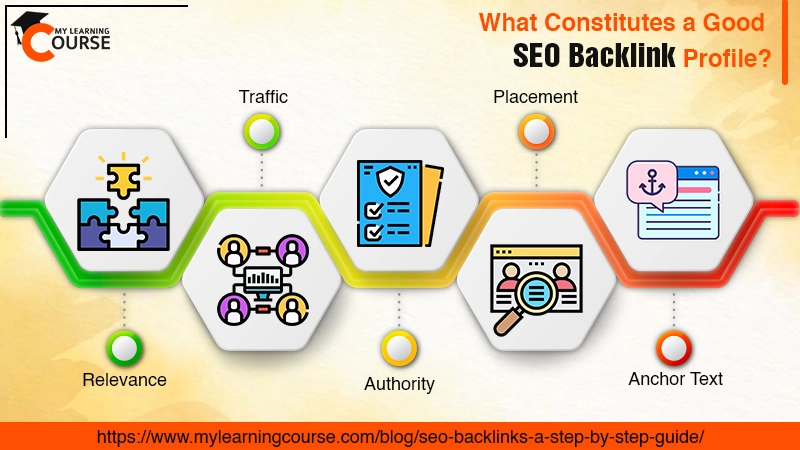 The collection of all inbound backlinks to a website is known as a backlink profile. In general, examining your whole backlink profile is best achieved through several data sources, such as Google Search Console and third-party backlink tools. It will give you some idea about your website's credibility, as seen by search engines. If backlinks are votes of confidence from other websites, a backlink profile may be thought of like your website's overall average score. A backlink profile is a method of addressing all recognized SEO backlinks to a website in a broad sense. The variation in a natural link profile is important. The links will originate from various domains and will have varying strengths. Here are some of the many factors that influence the quality and usability of an SEO backlink.
Relevance
Relevant SEO Backlinks have a higher value in Google's eye as people are willing to click them. Google prioritizes the relevance of links to make them more user-friendly.
Traffic
High-traffic pages will send more referral traffic than low-traffic pages. Rankings and SEO backlinks from pages with organic traffic have a minor but clear correlation.
Authority
Backlinks from high-quality web pages are usually more authoritative than those from low-quality pages. When you have backlinks from two different pages, one of which has more external links than the other, the link from the page with fewer outbound links will have more authority.
Placement
Some links on web pages are likely to pass more authority than others since people are more inclined to visit prominently placed links. A backlink placed at the bottom of a website, for example, may not carry as much weight as one placed in a related blog paragraph.
Anchor Text
The clickable words which make up a backlink are referred to as anchor text. Some anchor text is considered SEO-friendly, and it passes more value than others. It is better to have short, meaningful, and non-generic content.
How to Increase the Number of Backlinks?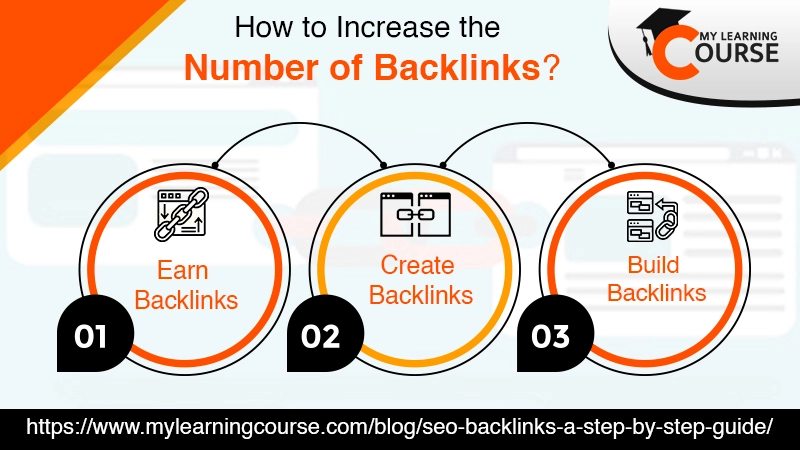 A few strategies can be used to increase the number of backlinks. Some Search Engine Marketing specialists use black hat SEO approaches, but not profitable until they can operate on a huge scale and are willing to risk being penalized afterward. The other technique is to obtain SEO backlinks by developing excellent content and distributing it to the appropriate audiences. Although there have not been any new link-building strategies in a long time, some have considered it more efficient than others. You can gain more backlinks in three ways, by creating, earning, or building them.
Earn Backlinks
Natural links are formed without the involvement of the website owner. People choose to connect to your content when they find it through search engines like Google, social media, or word of mouth. Earned backlinks, in other words, are natural. Consistently producing high-quality content is one of the finest ways to earn natural links automatically.
Create Backlinks
Participating in link-building activities earns you manual links. When you manually add links from other websites to your website, this is what you're doing. Another good way to get a manual connection is to guest blog for a relevant website. Make sure your text has a link to your website.
Build Backlinks
When a site administrator personally adds a link to a forum, online directory, or blog comment, they are known to be self-created links. While these links might appear to be the simplest to get backlinks, several of these techniques are black hat SEO or strategies that harm search engine ranking. No, follow tags are commonly used to mark these links.
READ ALSO- Most Effective Digital Marketing Strategies For The Festive Seasons
Final Thoughts
We hope that this article has helped you grasp the fundamentals of SEO backlinks and why they are so important. You now know how to get a high-quality backlink for your website using a variety of approaches. One of Google's most essential search ranking factors is backlinks. You'll have a better chance of ranking higher if you can gain more high-quality backlinks to your website.
If you want to grow in the present sector, you can enroll with us since we offer the best Digital Marketing Course Noida. Visit our page to learn more about the numerous courses available in the industry, including Big Data Courses, Search Engine Marketing, and more. My Learning Course is your best bet if you want to advance as a digital marketer because you can learn a variety of popular courses while getting a recognized certificate.