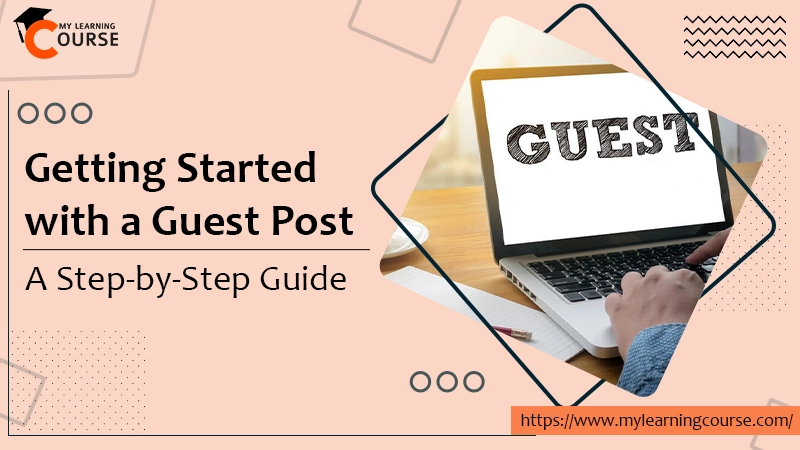 What is the definition of a Guest Post? What distinguishes it from an ordinary blog post? Blogging is an important technique for bringing the correct people to your website, as any digital marketer knows. If you're blogging for any significant period of time, you may have considered guest blogging as well. Guest blogging is the practice of producing articles for the benefit of some other company to share expertise and promote a specific brand's website. It aids writers in increasing traffic, acquiring new consumers, establishing a position as an industry expert, improving brand awareness, and maintaining relationships with similar businesses.
Learn how guest blogging can help your business, as well as key steps for creating a strategy that supports your marketing efforts, improve your brand's presence, and engages you with prospective consumers.
What is the Definition of a Guest Post?
A guest post is an article that is published on someone else's blog. Whenever you write content within your blog, it's called a "post," but when you write anything on somebody else's blog, it's called a "guest." Guest posts are effective reputation marketing tactics for a myriad of purposes, including getting your brand acknowledged and appearing in branding-relevant search results.
Guest blogging has a simple definition: it's when you post as a guest on someone else's site. You submit material to someone else's blog in exchange for a backlink to your own and greater exposure. However, the majority of individuals use a Guest Post to insert backlinks. Bloggers could be powerful people, and their posts account for a significant percentage of online discussion. They may indirectly increase their impact in the social media sphere by guest blogging and trying to get to know individuals.
What is the Importance of a Guest Blog for a Company?
Guest Blogs have numerous advantages for any company. You may position yourself as an authoritative figure in your business, develop connections with some other leading experts in your sector, and showcase your brand to a whole wider audience by offering your insights on those other companies' sites.
Today's digital start-ups, as well as established enterprises, are fascinated with blog posts for a variety of reasons. They are relying on bloggers rather than traditional marketers to spread information about their companies online. Participate in a relevant online digital marketing course to gain a professional understanding of Guest Posting and how to construct a successful one. To begin, guest blogging is all about building connections. You're meeting new people and connecting with some other bloggers, which could be beneficial in the future. Guest blogging allows you to reach out to a larger audience.
Formation of Business Relationships
A Guest Blog can help you create solid relationships with new customers as well as bloggers when you're an expert in a particular field. Such stakeholders would not only assist in the growth of your company, but they will also be a great means of marketing.
Perfect for Search Engine Marketing
Search engine ranking is also aided by guest blogs on reputable websites. When you create content for another blog and include a link to your own, the search engines which are directed to your site will scan these backlinks.
Marketing Strategy with a Lower Cost
Guest blogging is an excellent way to increase your internet presence and sell your brand. It is a low-cost approach to introducing your business at the front of a fresh demographic if you run a business online.
Leads to Better Opportunities and Sales
Another significant benefit of a guest post is the potential for new business opportunities. There are increased chances of sales if you obtain more leads. Greater sales equal more profit opportunities.
READ MORE- What is Meme Marketing And How Does It Influence The Digital World?
How do you write a successful Guest Post?
Do you want to begin a Guest Post but are unsure where and how to start? Before you begin a Guest Post, be sure you know exactly what you want to get out of the experience. Take a glance into industry blogs written by non-competitor businesses in which you can provide actual value to readers. A guest post can be written by anybody, but only a select few are capable of writing one that gets attention. In general, you can't make a blog become popular. To create traffic it only needs to be informative, on-topic, and well-written. Developing an effective guest blogging plan entails a number of phases. These phases assist you in laying a solid basis for your strategy by establishing clear goals, priorities, and criteria for determining which prospects are the right match for you.
Set your goals for guest posting
The foundation of any successful marketing campaign, including guest blogging, is outlining your goals. Identifying what outcomes you desire from your work can help you draw out a smooth plan to get there.
Locate chances for guest posts
Start by looking for websites that will interest and appeal to your target audience. Use the tool to build a list of categories relevant to the audience of that site. It will assist you in reducing the number of guest blogging sites and increasing your chances of having your content accepted.
Look qualifying site for a guest post
Search for blogs that welcome guest posts and are relevant to your mission and goals. Develop a set of guest blogging criteria that corresponds with your objectives and guidelines.
Come up with ideas for blog posts
Once you've chosen a site that satisfies your guest blogging standards, come up with blog ideas. Come up with some post ideas that will assist you to meet your objectives while also meeting the demands and wants of the publisher and readers.
Make your pitch flawless
Before your post is selected for publication, you must attract the publisher's attention by pitching your piece. Make your guest post pitching so excellent that it attracts a large number of new consumers.
Write a post that is worthy 
After your pitch is accepted, you must create a blog that the publisher wishes to post on their website. If you provide your content using best practices, publishers will be more willing to publish it and collaborate with you further.
Keep track of your progress
Follow up with the publishers after your guest post is published if you want to build a solid connection with them and work with them again. Assist the publisher in promoting and managing the post.
What Effect Does Guest Blogging Have on SEO?
Guest blogging is a terrific technique for increasing your online visibility and making progress in Search Engine Optimization results. It is a terrific chance for both parties because they can simply interact with a new audience while also gaining fresh site traffic. Building an SEO-boosting guest post plan ultimately comes down to offering genuine, and relevant information to educate readers, rather than low-quality content that serves only as a driver for backlinks. If other people link to your post on their websites, Google believes your blog's content is useful and appealing. While stuffing your guest posts with links and keywords will help you climb the search engine rankings, it won't bring you any fresh, relevant traffic, and it won't help you develop a reputation as a subject specialist.
Backlinks
Guest blogging has the most impact on your website's SEO because of the link profile it creates. You must secure new links on new websites as you contribute to them. Backlinks are and will continue to be one of the most essential ranking criteria in search engine optimization.
Positioning of links
A biographical paragraph about your firm's background is often included in guest postings. In most cases, the author offers a link in the bio which explains their background. You should be able to request a link in the body of the post, especially if it adds value to the content, the reader, and makes sense in the context.
In SEO, anchor text 
The words hyperlinked are the anchor text in a backlink. The anchor text of a page tells both search engines and humans what the content is all about, and it can have a big impact on Search engine rankings.
READ ALSO- What is the best method to Learn Digital Marketing? 
Where Can You Look for Guest Blogging Opportunities?
The next thing you should do is look for opportunities to write guest posts. Your major goal while searching for locations to guest post is to identify sites that are relevant to your area or industry. As a blogger, you'll undoubtedly seek out opportunities to publish your posts on authoritative websites that are relevant to your niche. Remember to look at blogs that are related to your sector and also have an audience that would be interested in your business when you're doing this.
You may learn some insider secrets for landing the greatest blog post writing opportunities and maximizing your return on investment without spending time and money on bad leads. For example, if your company offers beauty items, you should seek out a website that provides information on cosmetics, skincare necessities, perfumes, and other related topics. The following tips should assist you in locating suitable guest blogging opportunities.
Use the Google search engine
When looking for guest blogging opportunities, Google is an excellent starting point. Using any of the keyword searches, you can find sites that welcome guest posting. To discover a location to write something relating to your sector, type your main keyword along with "submit a guest post" into Google search to get a list of all marketing automation websites that allow guest posting.
Guest bloggers who are well-known
Another option is to locate some top authors in your field who consistently provide relevant and high-quality content. Examine their social media profiles for seeing their posts and the businesses they promote. These brands may also be appropriate for your content. Look them up on Google and see if you can get your guest post published there.
Examine the backlinks of competitors
Another option is to conduct a backlink study of your competitors as part of your SEO plan. There's a good chance you'll come across guest blog URLs. You may accomplish it by looking at your competitors' backlinks and spotting any blog articles they've produced using a variety of tools. If you're still having trouble, try a Google search.
Searches on social networking sites
Many bloggers and guest posters will post links to their most recent guest postings on social media. Because Twitter is the simplest to search, consider doing a Twitter search for the keyword "guest post" to see the most recent posts about guest articles in your business. Simply click on the links to find out which blogs are seeking guest contributions.
Participate in relevant communities
You can join a suitable community for new prospects depending on the type of business you manage. If you operate in digital marketing, for example, you should join a group on Facebook or LinkedIn. You can identify websites that welcome posts from other businesses that way. You should not only join such a community but also actively participate in it.
How can you generate money from Guest posts?
Do you write for a Guest Post? Would you like to discover how to earn money by guest blogging? Digital marketers are aware of the multiple benefits of guest blogging as well as the various ways to profit from this tactic. Guest blogging is one of the most effective link-building strategies for companies looking to make money online by increasing traffic to their websites. Guest post writers are compensated for writing content on behalf of the customers.
Engaging other people's audiences are among the fastest and easiest ways to obtain visibility online. There are a few things to think about if you want to get paid for your posts. There are numerous digital marketing courses available in the market where you can enroll and learn how to create effective guest posts so that you may earn from them afterward. Please read the possibilities provided below to see how you can earn money by writing a guest post.
Promote your product
Promoting your product and subsequently selling those to a new audience is the simplest approach to earn your guest posts. You can pick an ideal time to tell readers about your organization and how it can help them overcome problems. If your post is about services that enable people to build websites for free, don't fail to mention that you have one with a trial period, and if possible, include a link.
Offer to write blog content
Guest blogging could be an extra source of income for freelancers who are competent at generating useful and relevant posts. Take into account guest blogging for influencers, educating people how to do so, working with businesses to create posts for them, or developing an online course on the subject.
Offer affiliate products for sale
Selling other firms' products is another wonderful way to make money through guest blogging. You must expertly describe them and inform your audience about their advantages. The key benefits are that the product isn't yours, hence you don't have to spend a lot of time developing it, and you get paid to help sell it.
Write sponsored testimonials
Companies frequently require comments and reviews from industry professionals. You can earn money as a writer by producing sponsored testimonials for various companies' products and services. To protect your reputation, though, just provide honest reviews.
READ ALSO- Most Effective Digital Marketing Strategies For The Festive Seasons
Final Words
A Guest blog is among the most effective online marketing tactics available. This is, without a doubt, a crucial phase in the world wide web promotion effectiveness. Give it a shot once you've grasped its benefits and see if you can make it work for your business. If you're looking for a digital marketing course Delhi My Learning Course website is the place to go because we provide a range of certification training based on the latest industry trends. If you want to be a guest blogger, you should give it a shot.
In a word, guest blogging is an important part of every company's marketing plan. If done right, it can have a significant impact on your website's rankings. It increases brand recognition, attracts a large target group, and improves SEO.  Simply make sure you are adopting Industry best practices and staying away from fraudulent sites for guest posting.