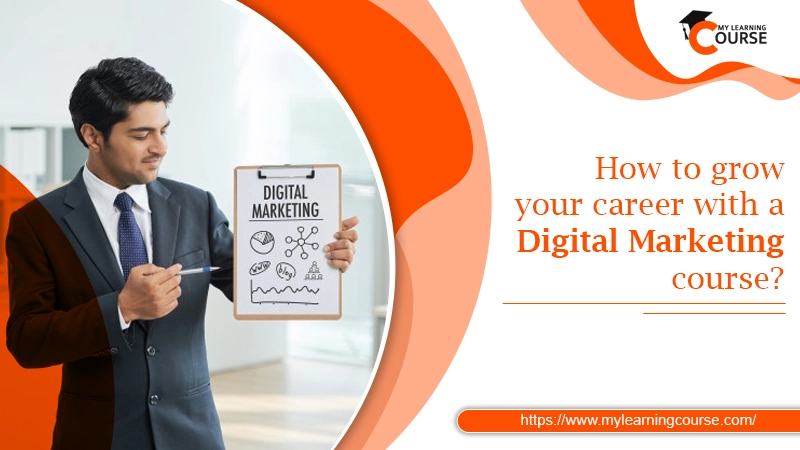 Are you unsure if a career in Digital Marketing is suited for you? If you're looking for a good profession in a rising field, digital marketing is a great starting point. Learn about what it's like to work in digital marketing, what expertise you'll require, and how to land a fantastic job. Take a Digital Marketing course to learn about the various work responsibilities and career opportunities available to you as a digital marketer.
Consider the last time you sat in front of a television for an extended length of time. It can be possible that most of you aren't aware of it. People have switched away from television sets to the internet because of the easy streaming of television shows. Companies have transitioned from traditional marketing to digital marketing because of this transformation, bringing commercials directly to your smartphone or computer screen. Digital marketing is an exciting field for working.
This article will cover every essential aspect of Digital Marketing courses. At the same time, discuss the job roles and career opportunities for digital marketers. The topics we'll be discussing are listed below.
What is the definition of digital marketing?

What is a Digital Marketer's job role?

Career opportunities does a Digital Marketing course provide?

What is the best way to start a career in digital marketing?

Final Thoughts
What is the definition of digital marketing?
Before you go into how to grow a career in digital marketing, let's first define the term. What exactly is digital marketing? In digital marketing, as in traditional marketing, a business has a product that it wants to sell, so it tries to engage customers, promote the product, and close a transaction. Because businesses are attempting to engage clients through the internet's enormous potential, they must hire a number of people to assist them in diverse occupations and with specific skill sets. Digital marketing is a highly versatile and creative medium.
According to the study, the digital economy is developing ten times faster than the traditional economy, and businesses that engage in online sales are twice as likely to create jobs as businesses that do not. It gives you several career opportunities. If you enjoy coding, consider web design; if you are a natural writer, consider content marketing, and on and on.
READ MORE- What is Meme Marketing And How Does It Influence The Digital World?
What is a Digital Marketer's job role?
The surge in popularity of internet marketing over the previous five years has resulted in the emergence of a new marketing specialist, one that focuses only on the digital realm. Not only does digital marketing include internet marketing, but it also includes wireless marketing. An experienced digital marketer collaborates with the rest of the marketing team to ensure that all online operations complement offline efforts. A Digital Marketer is in charge of developing a company's multi-channel communication, and depending on the company's size and needs, they may work in a variety of areas. Consider the following to understand a digital marketer's key responsibilities:
Website Development and Design
A digital marketer must engage with the web designing team and developers to integrate the design and functioning of a firm's site and oversee the process.
Content Marketing
All website content is the responsibility of a digital marketer. It's their responsibility to create and implement a content strategy to ensure that online goals are reached.
SEM and SEO
The work of a digital marketer is to make sure that a website's intended audience can easily find it. It includes optimizing a website's content and structure for search engines, as well as using online paid ads.
E-commerce
A digital marketer's job is to turn visitors to a website into direct sales. A digital marketer must ensure that online purchasing is straightforward for buyers and that the goal is met.
Social Networking
A digital marketer is in charge of a company's online presence and branding. Businesses can communicate with their customers in real-time through social networking technologies like Facebook and Twitter, and a digital marketer is responsible for the whole communication.
READ MORE- What Are Keywords In SEO And Its Type?
What career opportunities does a Digital Marketing course provide?
What types of jobs can you get with a digital marketing course? A growing number of students and professionals are interested in pursuing a career in digital marketing. Because digital marketing is such a broad profession, you can choose a career path that matches your interests and abilities. Digital marketers have a variety of employment choices. Year after year, the world is becoming more digital. Every company in the world has an internet presence, resulting in a plethora of job opportunities. It's a forward-thinking field. With technology evolving at a rapid pace, you'll need to maintain improving your digital marketing talent to keep your job progressing upward. Marketing, being one of the most popular specializations in the internet age, provides a wide range of career opportunities for students from diverse backgrounds these days. Here are some of the most promising career paths in digital marketing:
Digital Marketing Manager
A company's entire online presence is planned and implemented by digital marketing managers. They promote a company's products and services across every digital marketing channel available, with the primary goal of increasing sales at a minimal cost. A digital marketing manager is in charge of overseeing all the projects as well as bringing together various aspects of online marketing to make the process efficient.
A digital marketing manager should have at least five years of experience and the required credentials to support their skills.
Social Media Manager
Social media marketing is all about managing a company's presence across social media platforms such as Instagram, Facebook, Twitter, Pinterest, Linkedin, and many others. A company's comprehensive social media strategy is also designed and executed by Social Media Marketing executives. A social media executive or manager must keep up with the newest social media trends and prepare appropriate strategies. They have to regularly communicate with the content team and client support team, as well as, create valuable content or video, and so on. This profession requires extensive knowledge of various social media platforms and a high level of creativity.
Content Creator
As the title suggests, content is an essential aspect of this position. Content marketing entails the creation of online content. If you believe you can write better than those already available on the internet, you are ideal for this position. A content marketer's responsibility is to develop material having all the characteristics of going viral. They have to ensure that the content is well-promoted through SEO, collaborating with other groups and integrating their input into the content, and following content trends, among others. To succeed in content marketing, you'll need a strong command of the English language as well as a lot of imagination.
Copywriter
A copywriter collaborates with various members of the digital marketing team. As a copywriter, you'll assist the social media manager in creating viral posts and the SEO professional in creating content online that will boost the website's organic traffic. You'll also be responsible for writing ad copy and responding to any other content needs the company may have. A copywriting career requires a bachelor's degree in English and a lot of creativity. Once you've gained enough experience, you can advance to the position of Content Marketing Manager.
SEO Executive
The technique of boosting a website's ranking in search engine results is known as search engine optimization. SEO professionals are in charge of increasing website traffic and enhancing Google rankings. They must make certain that the material on the website is search engine friendly. To increase ranking, an SEO specialist must conduct keyword research, assess online traffic, design a social media strategy, content strategy, and plan to manage campaigns. According to experts, quality content combined with clever PPC can make your website rank high. As a result, SEO experts have a lot of options.
SEM Expert
Paid ads on all search engines are the responsibility of Search Engine Marketing Experts. If you're not afraid of numbers and have solid analytical abilities, search engine marketing is the greatest career choice for you. A Search Engine Marketing professional strategizes ad campaigns to guarantee that the ads reach the right people. They craft enticing ad copy that encourages viewers to interact with the advertisements. They also keep a close eye on the situation and make adjustments as needed. The best approach to begin a career in SEM is to learn Google Ads.
Graphic Designer
A graphic designer's role is crucial. It all comes down to how a person feels while using the app or website. You must engage with your customers on all levels, from the feel and look to the emotional quotient. Graphic designers use visual representations of thoughts and ideas to teach and inspire audiences while also demonstrating business value. They construct designs and layouts for numerous communication items, including advertisements, publications, brochures, presentations, and more.
Web Developer
Web Developers are the people behind all of those fantastic websites you see on the internet. Although the terms web developer and web designer are interchangeable, a web developer's function is more defined, while a web designer's responsibilities are more varied. As a web developer, you'll be in charge of creating appealing and user-friendly websites by designing, coding, and changing them. To be considered for this position, you must have prior experience with JavaScript, JQuery, HTML, CSS, and web programming.
Data Analyst
A Data Analyst's job is to analyze data and turn it into information that can help businesses improve their operations and make better decisions. A Data Analyst collects data from numerous sources and then analyses patterns and trends. Analytics is the most technical digital marketing talent and the most significant aspect of a digital marketing team. Analytics shows a company if they're on the correct route or not, and it helps them understand what's going well. Google Analytics is the best platform for learning data analytics.
READ ALSO- What Is SEO? What Makes It So Important? Things You Must Know!
Why is a Digital Marketing course a suitable choice for a career?
You come across numerous things while browsing the net, such as clever and funny memes, sometimes beneficial, sometimes annoying adverts, viral videos, brilliantly written blogs, mobile, and so on. Do you ever want to make one of these? If you decide to pursue a career in digital marketing, you'll discover that there are numerous options available to you. You can even advance up the hierarchy and be a manager if you continue to learn new things every day. There are a number of reasons why a digital marketing course could be a rewarding decision for establishing your career as described below.
Growing Industry
When someone wants to advance their career in any sector, they also seek job security. As a result, they'd frequently turn to a growing industry that wouldn't be affected by a potential emergency closure. In that regard, digital marketing is very young, and it is constantly evolving.
Utilization of Skills
Companies in today's world are hiring people with soft talents. If you have some digital abilities, you can advance your career by gaining more skills, particularly in this field. Planned skill development can help you advance in your future growth.
Lots of Possibilities
It is difficult to shift your career in many fields if you have previously chosen a specialization. But with digital marketing, you only need a little training to make the necessary switch. In most cases, there is something for everyone in the world of digital marketing.
Scope for Creativity
Digital marketing is a sector that requires a lot of creativity. Unlike most of the other technical occupations, digital marketing allows people to work with a lot of creative freedom. With a digital marketing course, you can choose from writing, design, or video and audio production.
Working in a variety of settings
Because you will be meeting a lot of different people with diverse skillsets when you enter the digital marketing sector, you will have the potential to expand your creativity. Working with diverse individuals gives you the opportunity to learn from them, and also to find a new course in life, such as learning a new talent that will expand your portfolio.
What is the best way to start a career in digital marketing?
You're undoubtedly wondering how to get started in the field of digital marketing. Because digital marketing necessitates a wide range of talents, studying a few digital marketing-related skills is a good place to start. Enhancing your talents might help you get on the correct track in your digital marketing career. To give your expertise a formal accreditation, you might enroll in a legitimate Digital Marketing course or pursue a career route in the field.
Take a course in digital marketing
To begin, enroll in a best digital marketing course to learn about the various components, tools, and methods of the industry. There are a plethora of online digital marketing courses available on the market that provide excellent training as well as a recognized certification.
Create a Significant Online Presence
Establish a great online presence and stay on top of the current digital marketing trends after you have the required knowledge and skills needed. Facebook, LinkedIn, and Twitter are the three most important social media platforms for digital marketers.
Find a job in the digital marketing field
Examine the current Digital Marketing vacancies on the top job search sites and apply to the ones that match your abilities and qualifications. To get your dream job in Digital Marketing, you'll also need a decent portfolio and CV, so make sure to write an impressive resume that highlights your accomplishments, educational qualifications, talents, and other relevant information.
Participate in Freelancing Platforms
While you're looking through the job listings, you may also put your abilities to use by taking on freelance tasks. Digital Marketing is among the most in-demand sectors, with a plethora of freelance chances for employment. Sign up for freelancing sites to expand your network and find clients who can help you construct a good résumé and portfolio.
READ MORE- Most Effective Digital Marketing Strategies For The Festive Seasons
Final Thoughts
Digital marketing is quickly emerging as a promising field with plenty of new prospects and rapid career advancement. Start getting upskilled today by joining the best Digital Marketing Course if you want to be a part of the trendiest sector and develop in the following years. If you choose a career in digital marketing, you should never be complacent; there is always space for improvement.
Check out My Learning Course's numerous certifications if you're interested in getting into the realm of digital marketing. We are a prominent Digital Marketing Institute that offers a variety of courses in the industry. We provide comprehensive learning and a recognized certification to our students that help them achieve their career goals. The good news is that, unlike other industries or professional categories, digital marketing does not require any official qualifications to begin. To develop and build a career in the area, all you need is an interest, skills, skills, and capabilities.