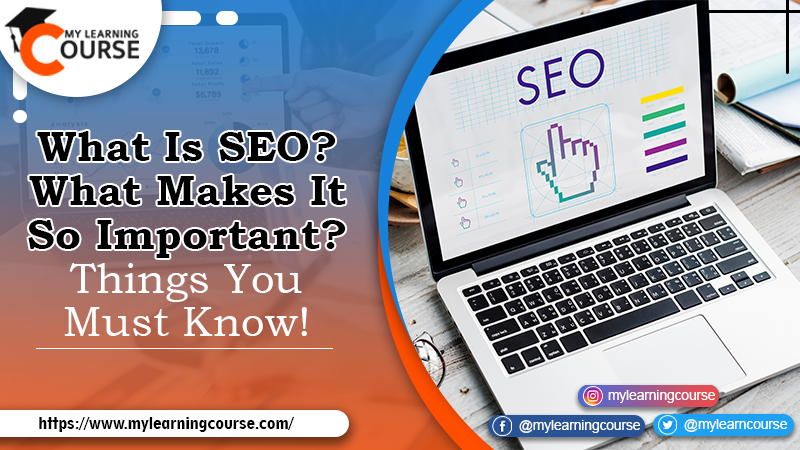 Digital marketing and the term "Search Engine Optimization" go hand-in-hand. After all, SEO is a powerful marketing tool that impacts a website's visibility. It helps a site communicate with Google and other search engines to ensure how relevant a website is for the users as well as search queries. While a digital marketing course can provide you with an in-depth view of what SEO really is, our comprehensive guide will help you understand how it actually works.
So, let's jump in and explore the world of SEO!
What Is SEO?
SEO or Search Engine Optimization is the practice of improving the organic search engine results of a website by increasing the quality and quantity of the traffic it attracts. This way, the content is likely to perform better on the search engines and achieve a higher ranking on the SERPs. Consequently, it improves a brand's online visibility.
All these efforts lead to better opportunities for locking down potential customers in the market. SEO is a mighty tool for revamping the overall status of a brand and its credibility among the customers. Further, it helps you make a brand stand out in terms of user experience.
<h3style="font-size:20px;">SEO has two major purposes.
It enables you to understand what users need to create premium quality content and satisfy their needs.
Another goal is to help you build a site that can be easily searched, indexed, and understood by search engines.
Adhering to quality SEO practices, without a doubt, helps in improving the qualitative results of a website. It makes them quicker, easy to navigate, and user-friendly.
So, what are the major SEO tasks you need to manage?
Recognize the elements related to your products or services that users are searching for.
Content creation that's exactly what users want!
Implementing different SEO techniques that provide the right signals to search engine crawlers and algorithms.
Although the internet is flooded with information on SEO, a full-fledged course would be helpful. My Learning Course provides you the deep-rooted knowledge of complex SEO concepts.
The Basics Of Search Engine
We can look at search engines as answer machines.
The search engines are loaded with millions and billions of content pieces. They assess the content based on thousands of factors to finally determine which one is the most relevant to your search query.
But, how do search engines do that?
They go through all of the content available on the web, then explore and discover them. This process is technically known as "crawling and indexing", Next, they place the content based on how appropriately they match the search query. The process is called "ranking".
The Unspoken Connection Between SEO And Organic Searches
The SEO score of a website speaks for its importance and relevance on the search engines. By putting SEO efforts in the right direction, you can attract the attention of the targeted customers. Thus, SEO is paramount for achieving high ranks on the SERPs. Further, it lets a web page display among the top results when a user searches for it using relevant keywords.
Basically, the organic search results are unpaid ones. The organic search results are not arranged and handled through paid ad guidelines set by Google. Instead, they are organized by the search engine algorithm practices.
SEO is a highly important tool to boost organic traffic. After all, this is what every site needs to achieve success in the digital world.
But, What Makes SEO And Organic Search So Vital?
It would be safe to say that SEO is extremely crucial to thriving on the internet. Basically, search engines put some specific algorithms and KPIs into action. They help in creating a direct movement of a website's traffic to another one.
The internet is undoubtedly flooded with multiple websites with robust organic search strategies. If you look at it from a professional viewpoint, it enables you to look into the major insights of your audience.
Do you need reasons that make SEO so important?
It is cost-effective.
It helps in delivering improved ROI.
You get actionable data through SEO.
It enhances credibility.
You get to attract relevant users through consistent efforts.
It helps you lock down more leads via its marketing funnel.
So, is there a way to tell apart organic search results from the paid ones?
One of the easiest ways to spot the paid results is the "ads" icon.
The paid results are displayed at the top of the search engine result pages. In contrast, the organic ones appear just below them. However, the SERPs appear differently for the users.
The paid and organic results can target entirely different audiences that lie on varying parts of the purchase funnel. Hence, the users searching for a specific product or quickly making a purchase mostly end up clicking on the paid advertisement. While the organic users get nurturing throughout the funnel.
Website optimization is one of the best ways to provide search engines with the most relevant information related to it. It further helps in indexing and showing your website and its web pages on the SERPs. Hence, SEO is something we should never look down upon.
The Significance Of SEO In The Digital Marketing World
What's the use of having a website when potential customers cannot find it? It would only lead to missed sales opportunities. SEO is a potentially strong tool that helps improve search engine traffic organically. As a result, it gives a push to the number of visitors on your web page every day.
All this leads to a jump in the sales chart. How? When a more relevant audience views your site, the sales are likely to improve.
A web page is likely to appear on the topmost results of a search engine when it has a high SEO score. There is no doubt that a high ranking on Google helps a brand increase its visibility. However, that is not all.
The better ranking also translates to trust-building among the customer base. When a search engine recommends something to a user, they are more inclined towards trying it out.
Hence, when a user is searching for a specific keyword and ranks higher on the search engines, this increases the trust factor in the user's mind. Tools such as Moz help you find the PA rating.
When a user looks up a product or service on the web, they usually select any of the top 5 suggestions on the SERPs. That's how their brains are wired.
Therefore, SEO is a strong element that pushes a site to achieve a better ranking on the search engines. It eventually helps in attaining better visibility on the web. Consequently, the potential customers would click on the site and improve the conversions.
Having a well-optimized site is highly important. It helps in clearly communicating the information about its products and services. Further, it helps in acquiring them and also answers any concerns related to them. When search engines cater to the websites developed to the user's experience, they can easily pull the required details that later need to be conveyed to the users.
If a user finds it difficult to navigate your website, the search engines would also have a hard time maneuvering them.
Search Engine Optimization is a definite way to improve a brand's growth. Haven't we made it obvious by now that a website is likely to receive more organic traffic when it ranks high on the SERPs for various high-volume keywords?
A well-optimized website is highly likely to attain increased sales and attain more customers. Furthermore, the audience would enthusiastically share about your brand across various platforms.
In the world of marketing, all the channels must align on the same message. This also includes organic searches. With multiple channel alignment, you can easily enhance the outcomes in all the connected channels.
If you wish to understand the technicalities of this very process, enrolling in a digital marketing course would help. The experts would teach you the nitty-gritty of SEO and related practices.
SEO is universally applicable. This means it helps you achieve a global reach. Further, SEO is capable enough to offer dynamic translation.
In fact, it helps a business improve its local visibility. Thus, it gives you a fantastic chance to enjoy the attention of unexpected customers from all around the world.
When you aim to improve your SEO efforts and indulge in legit link-building practices, it helps develop useful content. Such content comes out to be highly relevant for the users. They are naturally excited about sharing it with their network. As a result, your content gets publicized without putting trying hard.
The Most Important Elements Of SEO: Enhance Your SEO Knowledge
The practice of optimizing all the elements available on a website makes sure it turns out to be search engine friendly. While performing optimization practices on the web pages, it is crucial to indicate to the search engines what the web page is actually about.
So, what's included in the on-site SEO tactics?
It comprises the website structure, SEO keywords, image alt attributes, internal links, and various other important techniques. They help in letting the search engines evaluate and assess a website's content.
The SEO efforts made outside a website to boost its ranking on the SERPs are called off-site SEO. In this technique, link building is highly effective. You can create backlinks and utilize other websites with higher traffic rates and reputations to link back to your site.
What do backlinks do? They are an excellent way to display the trust factor in search engines. Further, backlinks serve as an excellent way to improve a site's ranking on the search results.
However, it would be best to make sure that the links are associated with trustworthy and well-known websites. Also, you must ensure that they will positively impact your site's ranking.
By all means, avoid making the search engines recognize bad-quality links.
The practice of optimizing a website for a pre-defined local area is called local SEO. The local business could be anything, including an agency, a restaurant, or an agency. The idea is to help the web pages to rank based on specific search queries carried out by the local audience.
Search engines work smartly by pulling the information of the user's location and making necessary suggestions that lie within a specific range. It helps them make a decision rather quickly instead of filtering out the ones not in the vicinity at the time of need.
For instance, if a user looks up on Google for the "best bakery for chocolate truffle cake", they are likely to select from the top results while making their decision.
How can you improve the local SEO of a site? It involves claiming your directory listings, utilizing local keywords, developing pages for your businesses on Google Maps and Google My Business.
Needless to say, keywords are highly important for SEO. They help in boosting the search engine ranking of a website. Keywords are basically a set of words or phrases highly used by the users to get the answers on the web.
You first need to get into dedicated research work. This would ensure you only end up selecting the perfect keywords for your site. Further, you must always go for something with high volume ratings and low competition. My Learning Course teaches you about SEO, its functionality, and its uses right from scratch.
The digital marketing world is ruled by quality content. A website has to be empowered with enriching and highly engaging content. This is what improves its outreach among the audience and potential customers.
Whatever business you run, updating the site regularly with relevant and informative blogs would improve its visibility within the industry.
Isn't it amazing? This way, you can easily kick start a conversation with the audience by offering them the information they had been looking for.
Once they have decided to proceed with the purchase, yours will be the first name that would strike in their minds. Thus, always focus on keeping the content educational, enticing and sharable.
Black Hat SEO V/s White Hat SEO: What Exactly Is It?
In the world of SEO, two of its major forms exist – black hat SEO and white hat SEO.
White hat SEO includes the practices, techniques, and strategies of SEO that adhere to search engines' rules. Its goal is to ensure that people get more value.
The black hat SEO involves strategies and techniques that try to fool the search engines. Although these techniques do work, yet there is a high chance of the site getting penalized or altogether removed from the SERPs. Therefore, we can say that black hat SEO tactics come with ethical implications.
When a website gets penalized, there are high chances of the business getting bankrupt. Hence, one should be very careful while going for professional help.
Search Engines Can Get You Into Trouble: That's Why You Need SEO!
While we have clearly discussed that SEO is crucial as it helps you reap the benefits of high-quality content and on-page optimization. Thus, allowing you to have an effortlessly positive customer experience.
But, another reason that makes SEO important is the imperfections of search engines. You need to ensure taking the necessary steps. It helps in preventing possible failures and saves your website from paying a hefty price.
Let's understand it this way.
When a website lacks proper link structure, then it becomes hard for the search engines to crawl and index it perfectly. As a result, they experience lower ranks on the search engines. Any error in the coding is likely to block the search engines. Thus, the website won't be able to rank regardless of how strong your SEO efforts may be.
Here are some of the other cases in which search engines get into problems:
Forms
Duplicate pages
Language and Semantics
Audios, images, video, non-textual content, flash, etc.
Figure Out The Best Way To Learn SEO
The best and most efficient way to learn SEO is by practicing it.
Although multiple concepts and theories can help you understand the technicalities of SEO, implying them practically is what would provide you clarity. When you apply SEO tactics on a site, you get to monitor the real-time results, including its ranking.
When the ranking, as well as organic search results, are enhanced, it shows that you are headed in the right direction. In case you feel something is lacking, then it's probably time to modify your SEO strategy and change the action plan altogether.
A digital marketing course would take you through all the details involved in SEO strategies. Therefore, it enrolling in one would definitely make things easier for you.
Does A Business Really Need Professional SEO Specialist?
Every website is different, and so is its purpose. So, does every site require an SEO expert?
The answer is a bit tricky.
An individual can perform the basic SEO exercises. It all depends on the bandwidth, urge to learn, and the complexity of the website they are handling. Else, the best option would be to hire a professional SEO master and let them do their job.
There is no doubt that a premium quality SEO agency can save your efforts. You can invest that time into other business areas and upscale the score chart. Going for an expert is a better choice than ruining your website with poor SEO efforts.
In fact, there are many digital marketing courses in the market to help you learn the best SEO practices. One such option is My Learning Course, empowered with qualified professional SEO experts. You get to learn the ins and outs of search engine optimization with practical implementation.
Is SEO Same As Digital Marketing?
If you are new to the world of digital marketing, then this question could be striking in your mind too.
Are our SEO and digital marketing the same?
Well, let's put it this way- SEO is a part of digital marketing. It is a tool that helps in improving a website's traffic, credibility, and conversions.
Digital marketing is a vast subject that includes PPC, social media promotion, content strategy, and much more.
If you wish to learn SEO, a digital marketing course would be your best bet. It would not only help you to grasp SEO in detail but also the other crucial components of digital marketing.
Final Words
Search engine optimization is the backbone of digital marketing. Without it, a website might struggle to attract the right audience, achieve organic visibility and attain a higher rank on the search engines. SEO can help a site shoot up its sales chart through consistent efforts.
My Learning Course introduces you to all the elements involved in search engine optimization. They have a well-trained professional team of experienced SEO specialists who excel in SEO practices. Their team offers you a world-class virtual learning experience and a chance to advance your career with diligent efforts.
It's time for you to propel your career chart by learning the technicalities of SEO!