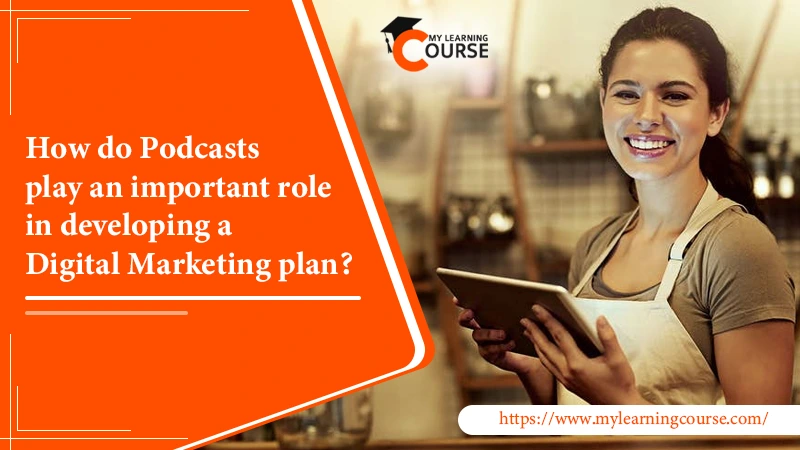 Are you aware that podcasts play an important role in developing your company's digital marketing plan? Podcasting has the potential to make you millions of dollars, double your following, and brand you as an authoritative figure in your chosen industry. When you're stuck worrying over your blog, how to grow your audience, or how to give your blogging business a fresh start, podcasting is the best move you can make this year.
Sound helps the audience to feel your emotion behind the words, which is useful if you want to engage with them on a much more personal level. The podcast has the potential to become an integral part of a company's digital marketing strategy. With a well-planned podcast, you may build a new audience and connect that to your main blog, boosting your overall readership. Various podcast libraries contain millions of free episodes.
What is the definition of a Podcast?
If you're wondering, "What is podcasting?" The answer is fairly straightforward. It means "Radio on-demand," according to Wikipedia. It is a taped audio program that may be downloaded to personal computers or mobile devices and listened to whenever the listener desires. The ability to subscribe to a podcast is one of the most appealing aspects of this medium. If a new podcast is released RRS sends a notification to the listener. It eliminates the need for a fresh marketing effort.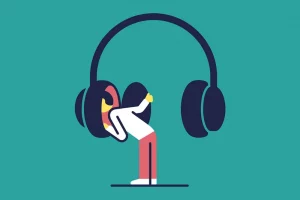 Some brands have been interested in the value that podcasting can provide to their business as this format for content generation grows in popularity. Brands can communicate with a captive audience through podcasting. With today's mobile lifestyle, the ability to have podcasts on demand allows businesses and brands to communicate their stories from anywhere at any time. It helps to develop authority in their sector and create brand awareness along the process.
Why should you use Podcasts as part of your digital marketing strategy?
Any discussion about new marketing methods should start with a big fat "Why?" Why should you invest in podcast advertising? Podcasts play an important role for many reasons, one of which is their portability. Audio episodes can be listened to while running, cleaning, cooking, and several other activities. As a result, they provide a convenient approach to learning while on the go.
An online digital marketing course can help you master the foundations of podcasting as one of the digital marketing tools. Podcasts play an important role and becoming increasingly popular as a source of fitness information, health advice, stimulants, financial assistance, and entertainment. Here are some of the top reasons to include podcasts in your digital marketing strategy.
Read Also: New Social Media Platforms that will emerge in 2022
Podcasts are a fantastic method to bring people together
The majority of brands seek to create content that promotes user-generated marketing. Podcasts play an important role to build a very dedicated audience that distributes content with their peers. Podcasts are a great method to build community through meaningful conversation.

There are a variety of podcasts that target a specific niche and are distributed within that area extensively. Brands can use the niche factor to target specific segments and connect to customers.
Podcasts provide value to their listeners
In an age where experts have access to a multitude of digital marketing tools, one option frequently overlooked is the podcast. Podcasts are great marketing tools because they allow businesses to access a niche audience.
Podcasts can be a useful strategy for improving page rankings. Podcast channels are gaining popularity, with 115 million people projected to listen to podcasts each week. In comparison to other social networking sites, there is also less rivalry in the podcast arena.
Podcasts can assist B2B companies in operating more efficiently
B2B companies can use podcasts to tell their stories interestingly. Podcasts can be an efficient tool for businesses that do not have the room or budget to conduct an effective campaign.
Podcasts can be a great way to promote your business. They can not only divert visitors to other social media networks, but they can also build a more loyal following. Podcasts aren't solely for marketing purposes. They also assist develop a community by educating and connecting with customers on a deeper level.
B2B entrepreneurs have to share the podcast with their consumers to interact personally with each one of them. Sharing a tale and even addressing problems is an important aspect of marketing.
Podcasts are about a lot more than just advertising
Podcasts are educational and provide knowledge that is of interest to listeners. They are not just a marketing tool, but also a tool for expanding reach.
The podcast gets more attention because it isn't aiming to market a product to a specific audience. It works as an effective marketing tool for businesses.
What is the best way to get started marketing your podcast?
You are aware that podcasts play an important role in developing a successful marketing strategy for your company. So, if you're thinking of getting into podcast marketing, doing your homework and knowing the industry, particularly its important players, is essential. To begin a podcast, you don't need a huge amount of money or technical experience. Here are some pointers to keep in mind as you begin your podcast marketing journey.
Collaborate with a recognized podcast creator
Starting your podcast with no prior expertise in the field can make it challenging to stand out. While there is a lot of demand for podcasts, the market is also very crowded. Instead, we suggest collaborating with well-known podcasting brands.
These podcast creators have the resources necessary to advertise your content. They won't accept just any podcast or a marketing campaign, which requires you to create something truly unique and intriguing. Getting them to approve a project can ensure that your podcast is on track.
Participate in a reputable podcast as a guest
Starting a podcast from the ground up can be time-consuming. Placing an advertisement or appearing as a guest on an established podcast is a lot easier. You can take advantage of the podcast's strong audience share and social following.
You can start by looking for related podcasts that already have listeners. The more you personalize your pitch for the podcast, the chance to get invited as a guest will increase. Once you have secured a position, make sure to promote it on social media by tagging the podcast.
Explore the best podcast advertisements
There are two major techniques a marketer can take a comprehensive approach to podcast marketing. Advertising in commercial breaks or during interludes in which one of the main speakers advertises their brand.
Pre-roll listeners will not be as engaged as those who hear your advertisement in the middle of a podcast. There's a lot to consider when selecting whether pre-roll or mid-roll is suitable for you. The sponsor will pay more if listeners are paying attention to the advertisement.
Use the services of an agency
Using the services of a media purchasing and planning agency will help you reach the correct people faster. They may also be able to assist you in securing places on larger, more prestigious podcasts.
If you have decided to hire a team of podcast advertising professionals because you believe in the advantages of podcast marketing. Contact one of these agencies to receive assistance with your marketing plan.
You may also like: A Step-by-Step Guide to Becoming a Google Ads Specialist
What are the advantages of using podcasts for digital marketing?
There are various advantages to using podcast marketing as part of your digital marketing strategy. Podcasts have actual worth since they are more than simply a promotional tool. They also provide value to the audience. While participating in the discussion, listeners can feel a connection, get a sense of belonging, and be a part of the podcast community. It is a terrific starting point if you want to spread your brand to a larger, more focused audience.
You may utilize podcasting to establish a higher level of connection with your present and prospective consumers by including an email address associated with the podcast where listeners can directly comment on the material. You can respond to questions or deal with the comments you will receive in your podcast. It will also provide you with new content ideas.
Assists in reaching out to new audiences
You're growing your reach whether you're establishing your podcast, collaborating with a podcast producer, or appearing as a guest on someone's. You can find Podcasts readily by topic. You can reach listeners who could become potential customers if you concentrate your podcast content on themes valuable to your target audience.
Assist in the development of a company
Listeners hear you as a person, not a company when you interact on a podcast. Customers respond well to genuineness. They feel more connected to your firm if they can understand why you began it and why it's essential to you in your words. It can significantly shorten the sales cycle and, based on the level of connection listeners have with you, can help strengthen your brand loyalty.
A lot less difficult to make
One of the advantages of podcast marketing is that it is far less difficult to create than video marketing. It takes a lot of equipment, technological know-how, editing abilities, and personnel to make high-quality videos. The cost of podcasting gear isn't prohibitively high. For first-timers, it's easier to use than video, and it doesn't demand a lot of hands.
Because podcasts are sent digitally, they eliminate many costs associated with conventional forms of communication, such as shipping, printing, and paper. They can also save money by reducing the number of meetings and email storage. They're simple to archive, and they're simple to update.
If your device is portable, you can carry a podcast with you and hear whenever and however you choose after downloading it to your system. Alternatively, you can save the podcast to a portable media player like an iPod.
A podcast is shared directly with the listener, either vocally or visually. That is a lot more personal than reading anything from an email or a document. Podcasts can be a great way to promote your business.
Podcasts can be listened to while doing other activities at work or home, as well as during your travel. Some meetings can be replaced by podcasts, which saves time and improves productivity.
Listeners choose anything they want and whenever they want it to hear. On the one hand, it means you're competing for their attention. On the other hand, that indicates that if they're listening to your podcasts, there's a good possibility they're getting the information you're giving them.
Read More: A Complete Guide to Big Data Analytics: Types, Applications, and Significance
What are the best platforms for hosting podcasts?
You may be discovering that podcast hosting is yet another step to consider on your path to podcasting stardom. You'll need one podcast hosting platform to keep your podcast online and distribute/play it to your listeners. Podcast hosting service providers are essentially web servers that give a few additional services to help you create and grow your podcast.
There are a plethora of possibilities for hosting your podcast with unique features to meet your specific requirements. Although most podcast hosting platforms offer a basic set of features, it's advisable to look for options that offer a more comprehensive set of features. It's best to know what features and functionalities to look for in a podcast from the start if you want to make a respectable living from it. The following is a list of the finest platforms for podcast hosting.
Buzzsprout
Buzzsprout focuses on being quick and simple to use for both podcasters and listeners, which is reflected in its clean and simple layout. Everything is quite simple in this podcasts platform, that it allows to upload and share content with the audience rapidly. Magic MasteringTM by Buzzsprout helps you to make your track seem like some professionals have engineered it. You will have to pay for this, but it will help you sound more professional, especially when you're just getting started.
Transistor
Transistor intends to excel at two things, private podcasts, and outstanding analytics, putting it ahead of the competition. Private podcasts are appropriate for individuals. They want to limit access to the content exclusively to the members. Companies that want to send secure content to their employees or shareholders frequently use private podcasts. Transistor's analytics are quite impressive, providing a fairly deep breakdown of listenership numbers.
Captivate 
Captivate has put a lot of thought into the implementation of tools that will help podcasters grow their following and profile. Captivate's highlight feature for helping podcasters increase their audiences is the ability to embed calls to action right in the podcast. It allows you to do things like, redirect listeners to your website or have them subscribe to your email list. Captivate also collaborates with Interactive Advertising Bureau. It means that all of their podcasting statistics are designed to be industry-standard.
Blubrry
The first thing that impresses us about Blubrry is that all of their plans provide unlimited bandwidth, not just the higher-tier ones. If you're lucky enough to have a popular podcast or a podcast with a large audience, having limitless bandwidth will be a major selling factor when it comes to hosting platforms. However, there is a cost to having unlimited bandwidth, and that cost is Blubrry's limited storage options.
Castos
The Castos Hosting platform is among the most popular in the market for podcasters. It includes several well-liked tools and integrations that can help you build your shows to the next level. You may edit your feeds and upload your episodes directly from WordPress with the use of a simple Podcasting WordPress plugin. They also provide a convenient and customized player that you can put right on your website.
Libsyn
Libsyn is a seasoned veteran in the area of new podcast hosting services. The program is as old as podcasting itself, and its features have earned it a respectable reputation. It has several features that make it a useful tool for podcasters. Adjustable podcast settings based on multiple distribution networks, separate apps for your podcasts on paid subscriptions, and quality restoration are just a few of these features.
Also Read: Getting Started with a Guest Post: A Step-by-Step Guide
Final Thoughts
Thus, one can conclude that Podcasts play an important role in developing an effective digital marketing strategy for your company. Although podcasting is simple to begin, establishing an audience takes time. Because podcasting isn't as popular as social media marketing, it's a valuable component of your digital marketing approach. Also, a business cannot ignore a podcast.
Podcasting allows you to engage with your potential customers, which you can do on a more personal level. This connection is important since it contributes to the development of credibility and trust among the audience. We provide a digital marketing course for those interested in pursuing a rewarding career in this rapidly growing field. Moreover, you can get in touch with My Learning Course if you need any additional information about the courses we provide.