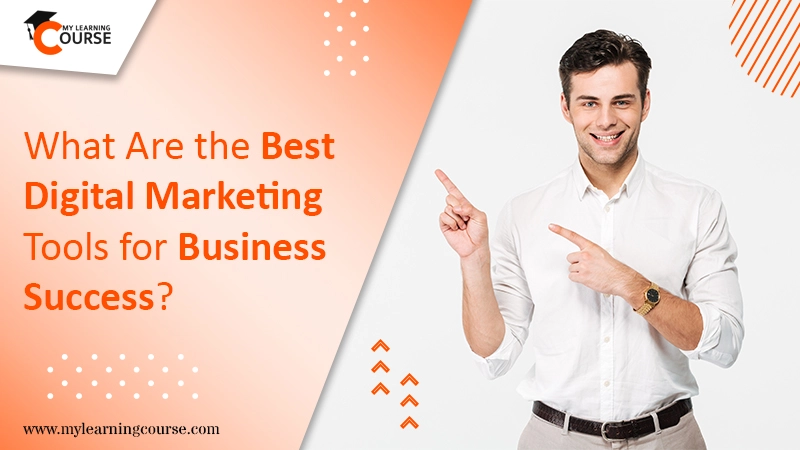 Today's businesses rely on digital marketing tools to remain sustainable. Brands are obligated to have a strong online presence, and they spend a significant amount of money on various digital marketing strategies to do so. While trying to maintain their brand's visibility, business owners and digital marketers face several challenges.
It's important to remember that for your business to expand, you will need to use digital marketing techniques. You will generate a larger profit and preserve a competitive advantage when you make the appropriate decision. Any company can maximize the effectiveness of its marketing campaigns by engaging a reputable digital marketing agency. Most successful businesses use a combination of digital marketing strategies to grow their business. Individuals can enroll in Digital Marketing courses to learn about the most successful technologies and put their knowledge into practice in a company setting. When it comes to evaluating software for your marketing plan, there are thousands of possibilities nowadays.
What is digital marketing, and what are the different types of it?
Digital marketing is a type of marketing that involves the use of electronic devices and it can be utilized by marketing professionals to provide promotional messaging and track its effectiveness throughout the consumer journey. It refers to marketing initiatives that display on computers, smartphones, tablets, and other devices in practice. Also sometimes compared to traditional marketing strategies such as magazine ads, billboards, and direct mail.
While modern digital marketing is a network of channels into which brands are also integrated. Online advertising is significantly more complex than the channels themselves. Marketers must delve deep into today's huge and intricate cross-channel world to identify methods that create an effect through engagement marketing to realize the true potential of digital marketing. You must get your hands on digital marketing if you want to see business changes or enhance your sales. The following is a list of many types of digital marketing.
SEO:
SEO is a marketing strategy that requires businesses to focus on boosting their website's rating. It also helps to increase visitors. The high your website ranks on Google's search engine results page (SERP), the more opportunities you'll have to expand your brand.
Pay-per-click:
It's a marketing strategy for bringing in paid visitors to your business's website. Each time their ad is clicked, the advertiser must pay the publisher.
Video Marketing
The most widely used kind of online media is video. It's a powerful piece of marketing content that will help you gain more customers. Video marketing is utilized in a variety of ways.
Content Marketing
Content Marketing allows businesses to supply customers with useful information rather than selling them a product. Material marketing is concerned with delivering value to clients and creating material that will entice them to buy.
Email Marketing
One of the most traditional techniques of digital marketing which offers a great return on investment. It entails delivering tailored emails to a certain audience or past consumers.
Social Media:
Facebook, Instagram, and other social media platforms are covered. Businesses use these channels to promote their business by generating valuable content.
Read More: A Step-by-Step Guide to Becoming a Google Ads Specialist
What are the most effective Digital Marketing Tools?
Digital marketers need to be active in multiple places to improve their marketing game. Businesses are finding it more difficult than ever to prosper without investing in digital marketing. Using digital marketing tools is the most effective way to ensure that your company has a positive return on investment. You'll be able to implement the proper strategy in the right way with digital marketing tools. These digital marketing tools are intended to keep things in place while also allowing you to make required adjustments as needed.
Tools come in different forms and sizes, so deciding which ones are suitable for you can be difficult. Here is a list of the best digital marketing tools to use in 2022. This list can function as the cornerstone of a robust marketing strategy, whether it is for monitoring connections with customers, appealing to more prospects, or identifying potential markets.
| | | |
| --- | --- | --- |
| AdWords by Google | Hotjar | Asana |
| Google Analytics | BuzzSumo | Business Canva |
| SEMrush | ActiveCampaign | MailChimp |
| Trello | OptiMonk | Hootsuite |
| Optimizely | DropBox | Ubersuggest |
AdWords by Google
Google Ads is the path to go if you're looking for a marketing solution to aid your digital advertising efforts. You'll be able to choose among pay-per-click and pay-per-call ads, as well as use the Google Keyword Planner.
The Keyword Planner can assist you in optimizing your digital ads as a beneficial SEO marketing tool. It is also helpful for your organic search strategy for optimal effectiveness. When a user searches for your chosen keywords, your Google Ad will appear on the search results page.
Google Analytics 
Google Analytics is another excellent digital marketing tool for Google. You can know who is visiting your website, where they came from, and how long they spent reading your pages for free. You'll be able to measure conversions and identify where the hotspots are on your website as well.
If you're not sure how to utilize Google Analytics, the company offers a free training course. This course culminates in the issuance of the certificate.
SEMrush
SEMrush is another essential digital marketing tool that helps you track the rankings of your top keywords. It is also helpful in looking for new terms to score.
The tool's breakdown of keyword suggestions, difficulty, and variations can also assist you to come up with content ideas and figure out what people are looking for.
Trello
Trello is a project management application that can be used to plan and strategize content marketing. Trello is free and simple to use for your team members even in case they are located all over the world.
Users can make topic cards and add notes to them. Team members can simply set deadlines and themes, and each assignment can be marked as completed once accomplished.
Optimizely
Optimizely focuses on landing page experiments, combining graphic development and audience targeting capabilities. It helps to conduct tests on a different set of your target audience.
Fine-tuning your site for performance doesn't have to be a significant task due to a no-code platform that aims to test both major and little adjustments to your pages.
Asana
Asana is a terrific asset to the team for brands that are working on multiple marketing projects at a particular time. This tool, which is available at a variety of pricing categories ranging, helps in streamlining workflow and keeping projects on schedule.
With the Asana toolkit, you can assign deadlines, layout tasks, de-silo data between team members, and instantly detect bottlenecks. It also allows team members to provide encouragement and support to one another during challenging undertakings.
Business Canva
If you've ever done any kind of marketing, you've almost certainly heard of Canva. It's currently one of the most well-known marketing tools provided as a free design platform.
The drag-and-drop capability allows users to build unique material for marketing needs. The major advantage is that you won't require a graphic designer on staff. This app is useful for anyone on your marketing team.
Hotjar
Marketers can use Hotjar's analytics and feedback service to monitor user activity on the site. By utilizing sophisticated capabilities such as screen recordings of your user, site heatmaps, and feedback polls, the application assists you in identifying the information underlying behavior.
As a digital marketer, using a tool like this allows you to assess the efficacy of a website design while also allowing you to develop solutions that enhance site conversion.
BuzzSumo
Influencers on social media are an important aspect of digital marketing. However, determining which ones are genuine, and have false followers can be difficult. Buzzsumo can assist you in identifying and connecting with the top influencers in your business or specialty. It is also useful to spot new trends and distinguish between evergreen and trending content.
For a monthly charge, you'll also be able to track the performance of your content utilizing analytics and social mentions as the primary metrics.
ActiveCampaign
This digital marketing tool enables you to create development tracks or sets of email responses, based on the action of visitors on your website. It saves you a massive amount of time, especially if you have a lot of visitors who download eBooks, sign up for webinars or free consultations, or fill out forms on your website.
You may also connect it to your CRM so that when a visitor reaches a certain point in the engagement, the visitor is transferred from marketing to sales.
OptiMonk
The OptiMonk platform allows businesses to grab clients' attention and keep them from bouncing by using customized pop-ups.
The platform's behavior-based target marketing ensures that your pop-ups wouldn't have to be disruptive, with a focus on lead acquisition and exit intent messaging.
DropBox 
DropBox is a necessary component of today's digital company. It brings all of your business's operating elements together in one place, reducing clutter and saving time seeking for things.
The secret to a successful business is an organization, and downloading and exchanging files is no longer enough. You can't get everyone copying personal company files on their laptops, misplacing them, or maybe abusing them while individuals work from home.
Hootsuite
Regardless of its size, or sector, social media plays a significant role in the success of every business. Social media marketing should be a must in this digital age.
Digital marketing solutions like Hootsuite allow you to schedule social media posts in advance, which saves you a lot of time.
Ubersuggest
Overall, this digital marketing tool is straightforward for beginners to use because the dashboard is easy to explore and discover the data you need quickly.
You'll begin by typing in a root term or domain that you'd like to investigate. Also on the free version, you can conduct up to three free searches every day, and you can also upgrade to the commercial program.
MailChimp
Any marketing team that is trying to increase conversions and efficiently reach their customer base with an email campaign should use MailChimp. It also helps you create more enticing landing pages and makes ad campaigns easier and better.
You can develop a flexible email campaign with the help of a user-friendly marketing tool that was substantially more successful than our past attempts.
Also Read: What is Meme Marketing And How Does It Influence The Digital World?
What are the benefits of digital marketing tools for a company?
The way businesses communicate with their customers has evolved. Consider how you learn and how you share what you've learned with your coworkers, friends, and family. Being online and connected has changed how we buy goods, how we learn about events, and even how we engage. You may also be able to quickly equal or outperform competitors' products, putting you ahead of the competition.
Digital marketing is not just important to your company but it is also in demand. There are numerous online digital marketing courses available on the market. You may join one of such courses to become a pro in the field. One of the reasons digital marketing has altered how businesses advertise and market their products is that you can access that at nearly any time. Digital marketing has several significant advantages over traditional marketing.
Speed
In this virtual world, a simple click of a mouse button is all required to get your word out there. When opposed to the far more time-consuming process of having printed documents created and disseminated, businesses may be far more agile with their communications. In comparison to the production and printing of a flier, Twitter tweets or website updates take only a few minutes.
Affordability
Digital marketing has introduced marketing to small and medium-sized enterprises. It puts both the small and medium-size organizations on an equal footing with large corporations because of its affordability. At the same time, you gain a much bigger audience with the potential to reach the entire world, and you waste less paper.
Measurability
Because it gives information on what people are interested in and how they find and navigate your website. A website is possibly one of the most important marketing tools. Search engine optimization (SEO), pay-per-click (PPC), social media marketing, and email marketing are all options. You may track how your numbers change over time to determine whether your marketing message is reaching the intended audience.
Loyalty 
It takes time and works to build customer loyalty, but it is well worth the effort. It's great to close a transaction with your customers, but keeping them after the sale is even better. A happy customer is more likely to return or recommend your business to others, resulting in higher revenue.
Targeting
Many digital marketing solutions now let you target a specific demographic, making audience segmentation easier than ever before. You can use internet tools to keep track of a person's online activity and demographic data. Digital marketers utilize this information to target customers with specific products and services.
Engagement
In today's fast-paced world, digital marketing gives your business a dynamic advantage. The ability to speak with your prospective and current customers, answer questions, and handle difficulties is one of the most essential reasons why digital marketing has become so crucial. You'll be able to communicate with a broader audience, allowing you to do more than just sell.
You may also like: What Are The Fundamentals Of Digital Marketing, And How Important Is It?
Final Thoughts about Digital Marketing Tools
Once you've figured out various digital marketing tools, you'll be able to confidently move forward towards your campaign while also keeping a better eye on your advertising strategies. You can learn digital marketing with my learning course by enrolling in one of the many courses we offer. The digital marketplace growth has forever altered the way businesses operate. Brands are now better equipped to connect with consumers and build customer relationships than before. It is happening due to the ability to reach a considerably larger audience. There are several digital marketing tools that you should implement into your everyday marketing techniques to ensure that your digital strategy is operating properly.
Whatever your business strategy is, you can find several digital marketing tools available to help you prepare, schedule, and publish your content. Select the ones that will help your company achieve its objectives. Using the proper digital marketing tools at the right moment is crucial to achieving your company's success.